Tag:
Christian Coaching
by Ircel Harrison, ACC "How can a coach help someone to grow as a disciple of Christ? Does...
Read More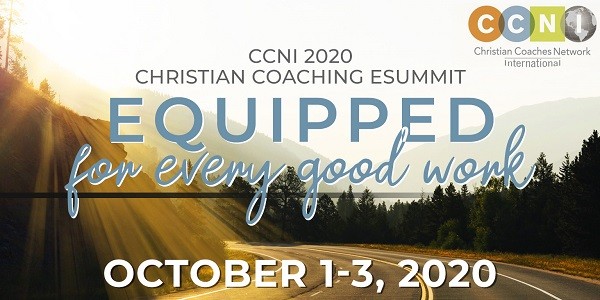 by CCNI Admin Team | Aug 27, 2020 | Become a Christian Coach, Business of Coaching, CCNI Event, CCNI Member Info, Coaching Community, Coaching Core Competencies, Coaching Ethics, coaching questions, Coaching Relationship, Coaching Specialties, Coaching Tools, eSummit | 0 |
by R. A. Weigel This is an article about why I think YOU should sign up and attend the upcoming...
Read More
The systems of the world may never "sit up" and recognize the great things that you do for the...
Read More
"You can get enough hate in a minute but you can't get enough love in a lifetime." I've used that...
Read More
Introducing CCNI's Newest Board Member Susan Litwiller, Director of Education, CCNI I recently was...
Read More
CCNI's 2020 eSummit's registration launches August 3 with a special early bird rate. We are...
Read More
By Michael J. Marx More than any other skill, listening is an absolute pre-requisite for being a...
Read More
There has never been anything quite like this in our lives and likely there will never be another....
Read More
When people think about their choices – if they think about them at all – most of them don't seem very significant. We usually don't remember what we had for dinner a week ago, what movie we saw 3 months ago, or even how we...
Read More
I'm regularly thankful for the board members that I serve with at CCNI. I've been exposed to many...
Read More
I found a one-minute video that highlights the power of a new perspective. Click here to watch it....
Read More